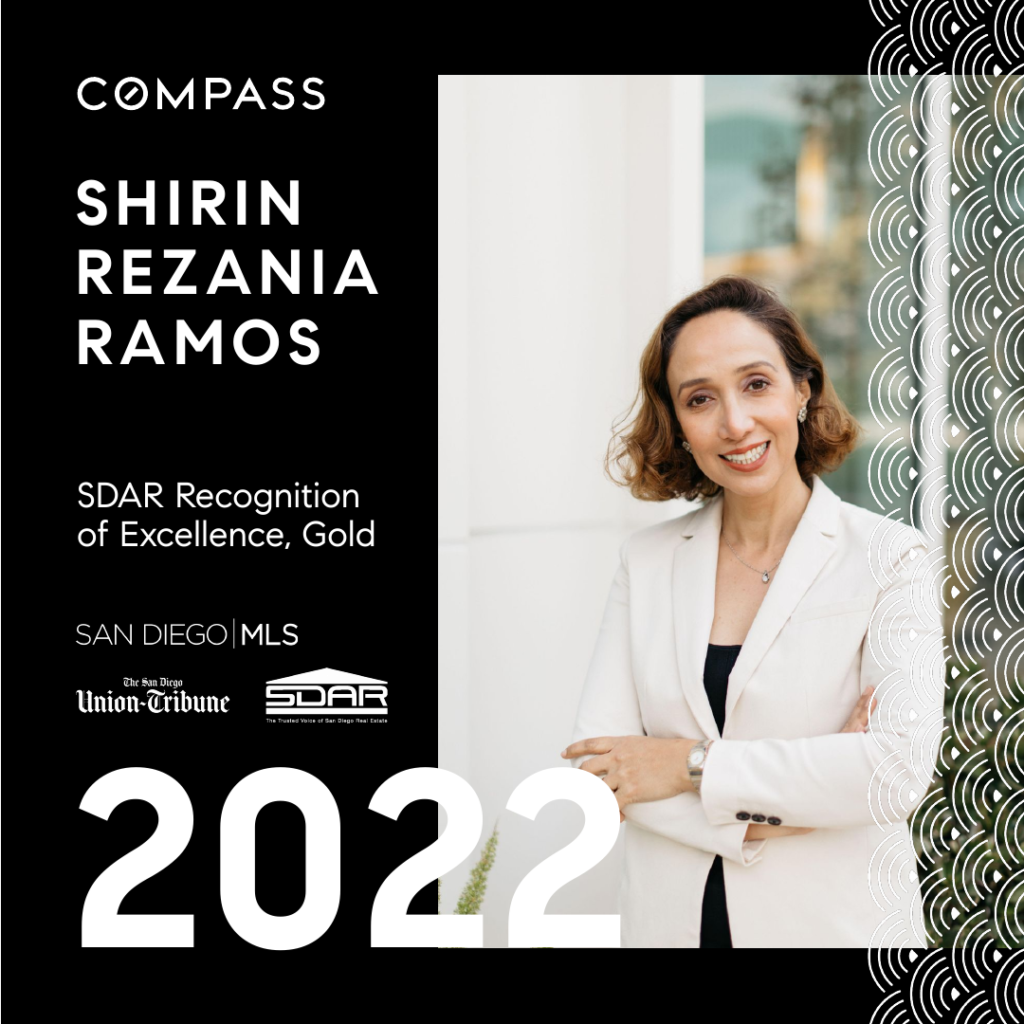 First and foremost, Shirin Rezania Ramos is an advocate.
With over sixteen years of experience in the real estate industry, Shirin is an expert at navigating San Diego's competitive housing market. She lives and breathes real estate, and knows the industry inside and out. But these successes wouldn't have been possible if she didn't put people first.
Shirin is motivated by improving the lives of the people around her, and it's this passion that has informed every decision in her professional career. Shirin understands that buying or selling a house is a complex and daunting endeavor—one that too often turns into a source of stress and frustration. Throughout her years of experience, Shirin has witnessed many good people settle for less simply because the buying/selling processes were too confusing, especially when handled by inexperienced or impatient real estate agents. So she decided to be the solution.
The result? The Shirin Ramos Group, a high-touch real estate experience that puts clients first.
The Shirin Ramos Group consists of three dedicated agents who work around the clock to ensure an innovative and personal experience. Their focus is providing clients with the confidence and peace of mind to move forward in what may be their most important financial decision.
Shirin graduated from the University of Illinois at Chicago with a Bachelors of Science in Biochemistry. This, plus her fluency in three languages (English, Portuguese, and Farsi) helped her secure a job as a corporate purchasing agent for Abbott Pharmaceuticals. Although this proved to be only a stepping stone in her career, the experience taught her how to negotiate multi-million dollar contracts, cultivate strong relationships, and never settle for less.
This tireless and professional work ethic proved to be an asset in real estate. For the first ten years, she honed her skills in Chicago, where she became an expert at assessing home value in one of America's most architecturally dynamic cities. "I probably know the inside of every building in downtown Chicago," she says, laughing.
In 2016, Shirin moved to San Diego with her husband and two lovely children, and quickly hit the ground running in one of the nation's most competitive real estate markets—especially in the vibrant communities of Carmel Valley, Del Mar, Rancho Santa Fe and her talents did not go unnoticed. Shirin was the recipient of Chairman's Circle Platinum award in 2020 (Top 1% nationwide), Leading Edge Society award in 2019 (Top 8% nationwide), President's Circle award in 2016 (Top 4% nationwide) and Chairman's Circle award in 2015 (Top 2% nationwide).
She has also launched specialized websites which provide a quick and comprehensive search engine for homes for sale in San Diego:
Shirin is passionate about improving her community. In 2020, she became a Diamond-level sponsor for donating $10,000 to support public elementary schools in Carmel Valley and Solana Beach. 
Shirin never gives up, and she continues to improve the lives of others. She's thrived through a major real estate crash, and has been able to carry her clients through good and bad times. As a parent, she knows the stress that working families face, which is why she's dedicated to making the real estate experience as effortless as possible. For Shirin, every challenge is an opportunity—an opportunity to improve. An opportunity to succeed. An opportunity to advocate.
Services
Listing Agent, Buyer's Agent, Relocation, Consulting
Areas Served
Coastal, downtown, and suburban areas of San Diego:
Carmel Valley
Del Mar
Rancho Santa Fe
Solana Beach
Coronado
La Jolla
University Center
Downtown San Diego
Rancho Bernardo
Credentials & Awards
Member, National Association of Realtors®
Member, Greater San Diego Association of Realtors®
Member, California Association of Realtors®
Bachelor of Science, Biochemistry, University of Illinois at Chicago
Licensed in two states: Illinois and California
Certified Real Estate Negotiation Expert (RENE)
San Diego Association of Realtors Top Producer Award Silver in 2022
Berkshire Hathaway Leading Edge Society's Award
Berkshire Hathaway President's Circle Award
Berkshire Hathaway Chairman's Circle Award
Berkshire Hathaway Chairman's Circle Platinum award in 2022 (Top 1% nationwide)
Shirin Rezania Ramos
REALTOR ®
Compass – One Paseo Office
m. 858-345-0685 | Lic# 02033796